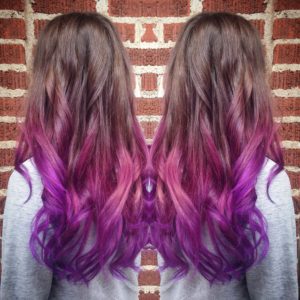 At Salon Intuition Asheville, we know all about mermaid hair color and maintenance! This post is everything that you need to know about mermaid hair color.
Mermaid hair is the latest trend for 2016 and it isn't going anywhere. It's beautiful, fun and sexy. A must have! The thing about mermaid hair is that anyone, I mean anyone can have it in one way or another.
Mermaid hair color is basically any colorful hair color. It has a wide range of colors from deep purples and blues, to neon colors, all the way to more subtle pastels such as lavender and pale pink. Let's not forget the to die for rose gold and silver toned colors.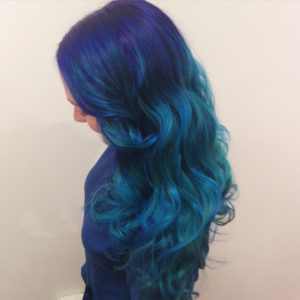 Having mermaid hair color can be simple or very complex. The process can take one hour or could be an all day event.
Here are a few things to consider:
Where do you want the mermaid hair color to be placed throughout the hair, what type
of look are you going for? Do you wish for only a few areas creating a peak a boo
effect or simply the ends of the hair? A you looking for a little more drama and want
all of you hair to be dyed?
Answer these questions first to begin the creative process, helping you find the right mermaid hair color for you.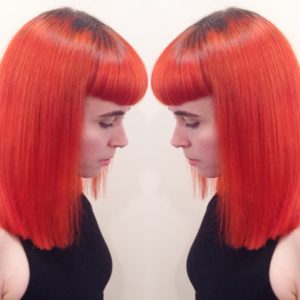 A few more factors to consider:
What is your hair's current situation? Do you have dye on it? How thick is your hair
and what is the length? How many colors are you wanting to use? Let your imagination
run wild!
Dyed hair, especially darker tones, take more time to lift the color out opposed to blond or virgin (non colored) hair. Having these questions answered will help you along the way to finding the mermaid hair color that best suits you and hopefully help you to understand the process that it will take to achieve this look. The more dramatic look that you want along with the length, thickness, condition and current color will determine how pricey this process will be.
Once you've contacted your stylist and had a consultation about your hair and scheduled your appointment, this is how the process will work:
First your stylist will pre-lighten your hair to a desired level depending on color
goals (unless you are already a pale light blond.) Sometimes a double process is
required depending on your color goal and current color. The darker the color, the
longer it takes to lighten. Make sure that your stylist is using OLAPLEX to maintain
yours hair's integrity.
Once your hair is lifted to the desired level, your stylist will carefully apply the desired color(s.) Once you process your stylist will then shampoo and condition your hair, rinse and wah-lah!
You are now a member of the mermaid tribe!!
For mermaid hair color, maintenance is the tricky and rarely discussed part. This is the main reason behind this post, so keep reading…
Generally, mermaid hair color lasts up to 15 shampoos. The first application comes out of the hair usually faster than the following applications. It is very important to use a SULFATE FREE shampoo and use the coolest water temperature than you can to keep the color locked in. Hot water will release the color quicker, and we don't want that. Follow up at home with a nourishing mask and OLAPLEX #3 as needed for your at home repair.
If you don't have multi-dimensional (many colors) mermaid hair color or you have one shade all over, you can occasionally use a pigmented shampoo that matches your color. Your stylist may be comfortable sending you home with a pre-tinted conditioner as well. Either one will help the color to last. You will get used to the results and be able to determine how often and how much you want to use. Mermaid hair color can be a higher maintenance look. The color does fade, and sometimes it fades fast. The sun effects it, salt effects it, heat effects it.
Follow your stylists guide and take care of your beautiful mermaid hair. Wash your hair as little as you can. Use color supporting shampoos and conditioners cautiously, but do you them for the longest lasting results. And for crying out loud, DO NOT use a white towel for drying your hair.
For product recommendations I like VERB shampoo, they are all sulfate free and come with a great price point of only 14$!! For pigmented shampoo I really love some of the new colors that the Celeb LUXURY line has to offer. They are heavy on pigment, just mix in with a bit of regular shampoo if you need to dilute it, and don't forget to grab your OLAPLEX #3 for an at home, as needed treatment.
Mermaid hair color has something for everyone of all lifestyles, and ages. It's so much fun and there is a variation for everyone! Mermaid hair color can be professional as well. It can be anything that you want it to be,
Hopefully all of this information has helped you to understand mermaid hair color a bit more as well as the maintenance it deserves. If you are in the Asheville NC area we are here at Salon Intuition Asheville are able to take care of all of your mermaid hair color needs.
Good luck and have fun!! Follow us on IG at SalonIntuition_Asheville. Feel free to email us any pictures, questions, praise and/or success that you have! Now, go rock your mermaid hair!!
See you soon,
XXO- Salon Intuition
All About Mermaid Hair Color and Maintenance